Are you in the market for a new pair of shoes from Zara? If so, you may wonder how to find the right shoe size. With the help of a Zara shoe size chart, it can be more accessible than ever to find the perfect fit! This article will provide helpful tips on measuring and understanding Zara's sizing system and suggest other resources to ensure your feet stay comfortable.
Shopping for the perfect pair of shoes can be daunting, especially online shopping. That's why having the correct sizing information is essential when selecting the ideal fit.
Zara Women's Shoe Size Chart
Knowing your exact size when shopping for shoes online or in-store is essential. Here are some tips on how to find your size in a Zara Women's Shoe Size Chart:
First, measure your feet's length and width using a ruler or tape. Make sure you're standing during this process and wearing the type of socks you will wear with your shoes. It would be best to look at the manufacturer's instructions, as they may have their specific sizing chart. Then, refer to the Zara women's shoe size chart and compare it against your measurements. It's important to note that each shoe brand will have its unique sizing chart, so always use the chart provided by whoever you are buying from.
EUROPE ——–US————- INCHES
42 —————11 ———–10.60 Inches
41 —————10 ———–10.40 Inches
40 —————9 ————-10.20 Inches
39 ————–8 ————–9.80 Inches
38 ————–7.5 ————9.60 Inches
37 ————-6.5 ————-9.40 Inches
36 ————-6 —————9.10 Inches
35————- 5 —————9.00 Inches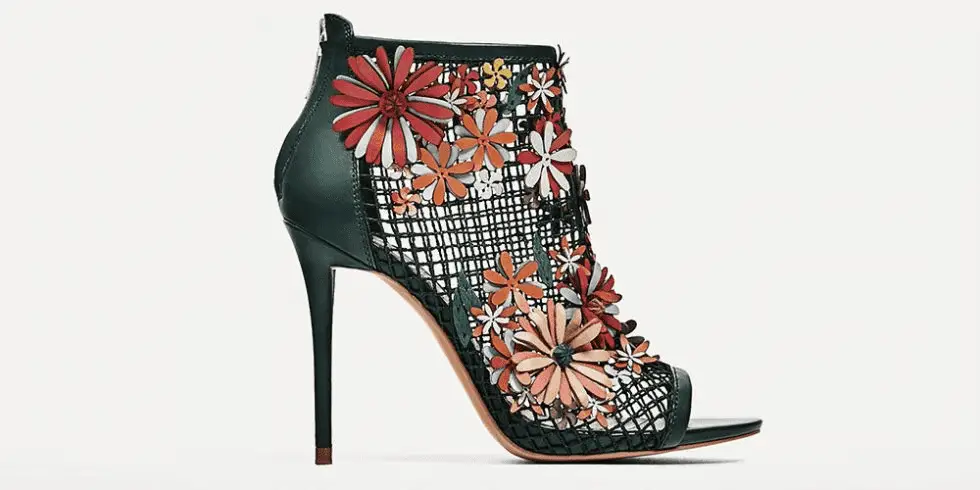 Zara Men's Shoe Size Chart
Using the Zara men's shoe size chart is simple; all you need are basic foot measurements. To begin, measure the length of your foot from heel to toe using a flexible measuring tape or ruler. You'll also want to measure around the widest part of your foot for width measurement and across the top for instep measurement. With these numbers in hand, the chart for US sizing and European sizing equivalents so you can confidently make an informed purchasing decision.
EU— UK—- US—– INCHES
47—- 13—- 14—– 11.90 Inches
46—- 12—- 13—— 11.70 Inches
45 —-11—- 12 ——11.40 Inches
44—– 10—- 11 —–11.00 Inches
43—– 9 —–10 —–10.80 Inches
42—- 8 ——–9—- 10.60 Inches
41—- 7 ——-8—– 10.20 Inches
40—- 6——- 7—– 10.10 Inches
39—- 5——– 6 —-9.80 Inches
Zara Kids Shoes Size Chart
If you're shopping for Zara kids' shoes, you must get familiar with their shoe size chart. The chart can be a helpful tool in helping you decide which size shoe will best fit your child.
First and foremost, the Zara kids' shoe size chart considers your child's age. To ensure the shoe fits properly, measure the foot length in centimeters or inches and use this measurement as a reference when looking at the sizing guide on the packaging. Additionally, try to find out what type of foot they have (narrow/wide), so you can pick an appropriate width from the chart.
AGE————– EU ——-UK——– INCHES
14 Year———-40 ——–6.5 ——–10.00 Inches
14 Year ———39 ——–5.5 ———9.60 Inches
13-14 Year —–38 ———5 ———-9.40 Inches
12 Year ———37——– 4 ———–9.10 Inches
11 Year ——–36———- 3.5 ———8.80 Inches
10 Year ——–35 ———-2.5 ——–8.60 Inches
9 Year ———34——— 2 ————-8.30 Inches
8 Year ——–33 ———-1 ————–8.10 Inches
7 Year———32 ———13 ————-7.80 Inches
6 Year——– 31 ——–12.5———— 7.50 Inches
5 Year ——-30 ———12 ————-7.30 Inches
5 Year ——-29 ———-11 ————-7.00 Inches
4 Year ——-28 ———10 ————-6.70 Inches
4 Year ——–27——– 9 ————–6.50 Inches
3 Year ——-26——— 8.5 ———–6.20 Inches
3 Year ——-25 ——–8 ————–5.90 Inches
3 Year ——24 ———7 ————–5.70 Inches
Tips To Find ZARA Shoe Size
Finding the perfect size shoe can be tricky and overwhelming. Here are some tips to help you find the right ZARA footwear size for your feet:
First, measure your feet with an appropriate sizing device, such as a Brannock device or ruler, to accurately measure your foot length in inches or centimeters. It will give you an indication of what size range to look for when shopping at ZARA. Secondly, try different styles and sizes in-store to ensure the fit is comfortable on both feet. You should also factor in any additional space needed if you wear thick socks or hosiery with your shoes.
Be aware of the length of your feet.
When it comes to the length of feet, many people need to pay more attention to it. However, the height of your feet can significantly impact your overall health and well-being. Knowing the proper length of your feet is essential to ensure you wear shoes that are correctly sized and provide adequate support.
Incorrect shoe sizes can cause numerous problems, such as blisters, calluses, skin irritation, and joint pain. Shoes must be the right size or adequately fitted to avoid poor posture, leading to muscle imbalances and cramps. Wearing shoes that are too small could cause long-term damage, like bunions and hammertoes.
Check the specific shoe size chart.
A specific shoe size chart is the best way to ensure the perfect fit. This chart will help individuals determine their exact shoe size, whether they shop in-store or online.
Size charts come in many forms, including international and gender-specific options. Most manufacturers have size charts and conversion tools, so it is essential to check those before purchasing. General guidelines should also be followed: for example, if an individual wears a half size of 7 ½, they should consider ordering the next whole size up (8) rather than down (7). Double-check the vendor's return policy when purchasing footwear online if the shoes don't fit right.
Fit your shoes to the larger foot.
It's essential to have a comfortable and secure fit to protect your feet. Many people need a specific solution when it comes to having two different-sized feet.
When buying shoes for larger feet, there are several things to remember. Firstly, ensure you measure both feet correctly and buy the larger foot's size. It will ensure your shoe fits comfortably rather than too tightly or loosely on either foot. Furthermore, ensure that you give yourself enough space at the end of your toe when trying on any footwear; this will help prevent blisters from forming due to rubbing against the shoe.
Conclusion
Zara shoe size chart can help you find the perfect fit for your feet. Use the tips in this article to adjust the sizes based on your preferences. Remember, shoes are an investment, so take the time to measure and try on multiple pairs before purchasing. Consider bringing an experienced friend or family member to help you if needed.
You may also read about
Frequently Asked Questions
Do Zara loafers run big or small?
It depends on the style of shoe you are looking at. Zara loafers run true to size. However, some classes may fit differently than others due to the material and construction of the shoes. It can be helpful to look at reviews from other customers who have purchased the same shoe style to get an idea of how they fit.
How do I know my Zara size?
Knowing your Zara size is easy! First, you'll need to take a few measurements of your body. You'll need to measure your chest, waist, and hips. Once you have those measurements, you can use the Zara size chart to determine your size. When looking at the chart, compare your measurements to the columns labeled "Size" and "Fit." The "Size" column will give you an idea of what number size you are, while the "Fit" column will tell you if it's a slim fit or regular fit item.