Swing Dance Shoes are a great way to get into swing dance moves. There are many different types of these shoes, each with its benefits and drawbacks. 
Some people love the look of swinging shoes, while others find them uncomfortable. Ultimately, it is up to the individual to decide which type of swing dance shoe is best for them.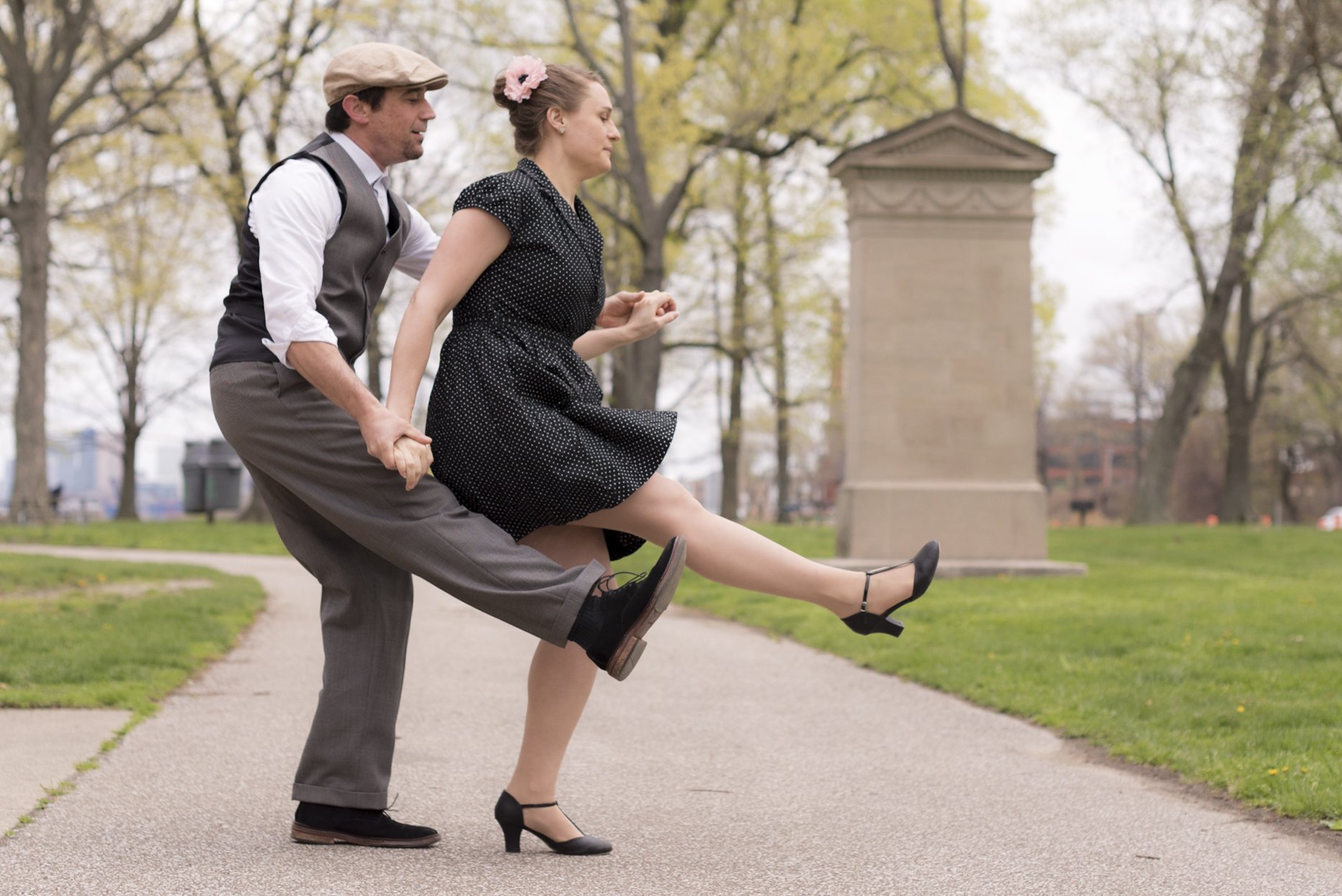 It's For Men
If Men are looking for a new way to enjoy swing dancing, you should consider buying some new shoes. Many types of swing shoes are available, each with advantages and disadvantages. Here are some tips on which type of shoes to buy for men: 
Look for shoes that are comfortable and easy to move in.
Make sure the shoes have spikes inside so you can stand up on them if needed.
Be sure to choose a style that is popular with men. It will help you find the right shoes for your needs!
It's For Women
These shoes for women are becoming increasingly popular due to their versatile features and comfortable design. 
This dance style is often characterized by its intricate steps and quick transitions, making it an enjoyable experience for both dancers and spectators. 
For women who want to participate in this type of dance, swing dancing shoes are a great option.
Types Of These Shoes
Often women wear a standard or Latin ballroom shoe with a wide heel for swing dancing or basic character shoes.
For modern swing, some dancers prefer wearing sneakers, especially to practice. Both dance sneakers and men's swing shoes have a relatively flat sole and only a minimal heel. It is fine with balance and movement. However, anyone swing dancing in heels might find an issue switching between dance sneakers and proper swing shoes. Further, dance sneakers have much more traction than shoes designed for swing dancing, so there may be better choices than wearing dance sneakers for swing dancing.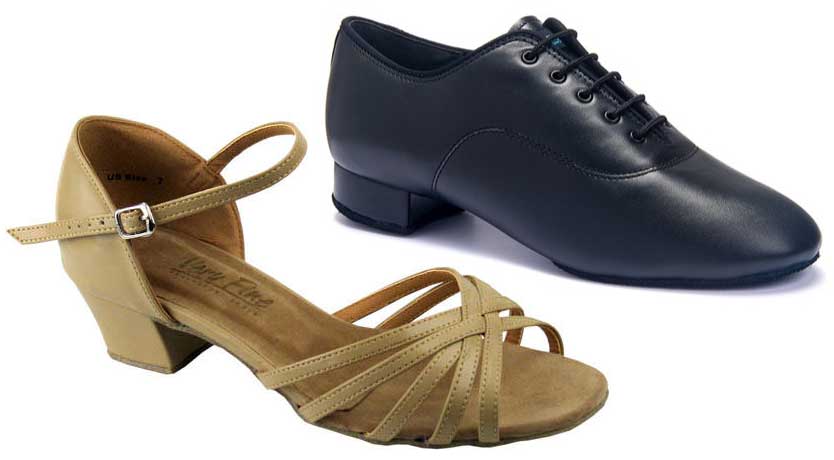 Jazz shoes are another common choice for amateur swing dancers. Jazz shoes might be suitable for some beginners, but some, particularly slippers, do not provide the foot support required in swing dancing. 
Firmer jazz shoes like jazz sneakers or competition jazz shoes provide better foot support, but if you choose to swing in jazz sneakers, avoid shoes with built-in pivot points and other unique jazz reinforcements.
A genuine pair of swing shoes is the only option for professionals and amateurs wanting to step up and get serious about swing dancing.
What Makes A Good Swing Shoe?
While cut and style and even heel height are generally a matter of personal choice for both men's and women's swing shoes, there are a few key characteristics that define good swing shoes.
Swing shoes for kids will feature all of the characteristics of good swing shoes for adults, although the shoe will generally have an all-over lighter construction.
Swing Dance shoes NeedsA Leather Or Suede Sole
As with many dance shoes, swing shoes for both men and women are designed with a smooth sole made of either leather or suede to provide the perfect traction you need to execute your perfect steps, twists and slides.
Leather or suede is often a personal choice. Suede shoes have more traction than leather, and suede also needs some upkeep to keep them clean and prevent them from wearing slick. If you're serious about swing dancing, shoes with rubber-bottomed soles should be avoided.
Heel Height
Some women and men prefer swing dancing in flat shoes, while others prefer heels.
A heel can be beneficial when performing back-and-forth stepping moves, especially in dances like the Jitterbug, as it helps to anchor and guide the balance of the foot.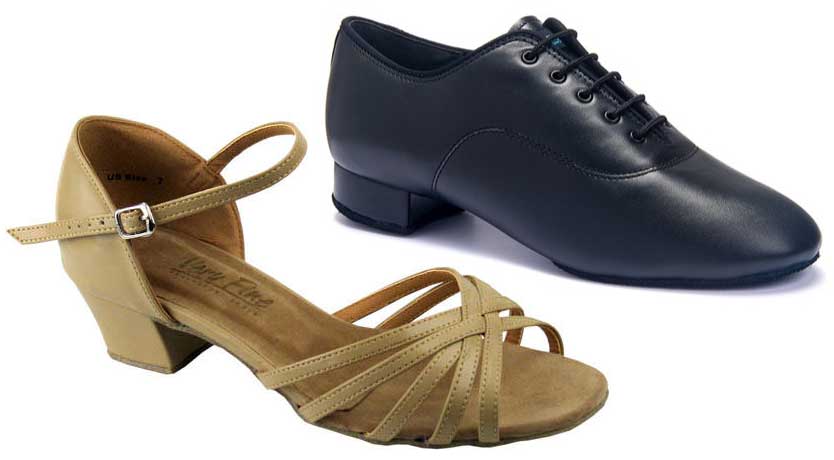 For swing shoes, heels are generally not higher than 2″, and some dancers recommend not going any higher than this, particularly for beginners. It goes for both men's and women's swing shoes. Some professionals and more advanced dancers do opt for a higher heel.
For dancers wearing a heel, a wide heel is the best choice for optimal balance, foot placement, and preventing injuries.
It Should Be Cushioned And Lined
Men's and women's swing shoes should have some degree of cushioned lining to protect the feet from the impact of the dance steps. Ideally, this should be a supportive foam.
Some swing shoes have rubber built into the soles to increase impact resistance, especially in the heels.
A fabric lining is also important to control moisture resistance as you're swinging up a sweat.
It Needs To Be Supportive But Flexible
Swing dancing involves a lot of footwork, placing the feet in a range of angles, and in some dances, the Balboa, for example, it's quite fast. A supportive shoe protects your feet from injury while you dance.
Fully enclosed leather uppers like Oxford-style shoes have great foot support. Women choosing a more open-style shoe should ensure their shoe is fitted with adequate arch and lateral support as well as secure straps or other closures to keep the foot stable within the shoe.
A good swing shoe will have a secure fit but won't be overly tight or allow the foot to slide inside the shoe.
At the same time, you want your feet held secure and need a shoe with enough flexibility to let your foot move through the full range of motions. Shoes with leather uppers provide a good amount of upper foot flexibility, and open-top shoes are the most flexible.
A flexible sole is also important. Good swing shoes are often designed with a split sole for maximum movement, and many high-heeled swing shoes will also feature a shorter arch support shaft to allow for greater sole flexibility.
Chase & Chloe Women's Oxfords
These cute heeled ladies' Oxfords are just what you need to complete the classic look of the 1930s.
This shoe features an all-leather flexible upper that is dotted with mesh openings that look not only great but also provide good breathability. 
The sole is lined with durable suede that will suit dancers of all skill levels, but while it does feature a wide set heel, the 3″ height may not suit some beginner swing dancers.
The shoe's inner features a soft cloth lining, and the footbed is fully foamed and cushioned for optimal comfort and support.
It is a medium-width shoe that runs fairly close to street shoe size, although dancers with wider feet may benefit from ordering a half size up.
Ferro Aldo Wingtips For Men
Men looking for a great swing dance shoe should consider the wingtip spats from Ferro Aldo. Made with a super slick leather sole for maximum slide speed, these shoes are designed for intermediate and professional swing dancers. However, a dedicated beginner is still in the process of donning a pair. 
The speed of this shoe suits faster dances like modern jive or rock and roll, so beginners could switch to a shoe with more traction to control slower dance steps.
Entirely handmade using high-quality, durable materials, these sturdy shoes also feature a foam-lined footbed for great comfort and support and a rubber insert layer in the heel for added impact resistance.
The short lacing system makes this shoe more suitable for someone with a regular or narrow fit foot, as the upper shoe fit cannot be adjusted below the midfoot to the toe. Men with wider feet may be better off with Ferro Aldo swing shoes.
Conclusion
Whatever your swing dance or foot type, there are a pair of swing shoes for your feet, matching flare with functionality. 
Now we've seen what to look for in good Swing Dance shoes and looked at some of the best available options on the current market, and it's time to hit the dance floor!
You May Also Like
Best Tango Dance Shoes of 2023