Flamenco shoes are an integral part of the traditional Spanish dance form known as flamenco. Spanish dance and music have been enjoyed by people worldwide for centuries. One of the unique elements of this dance and music is the flamenco shoe. 
Flamenco dance shoes are a type of shoe specific to the dance and music of flamenco. The flamenco shoe has a distinctive style inspired by traditional Moorish dress and architecture. 
These shoes are specifically designed for the intricate footwork and rhythmic stamping characteristic of flamenco.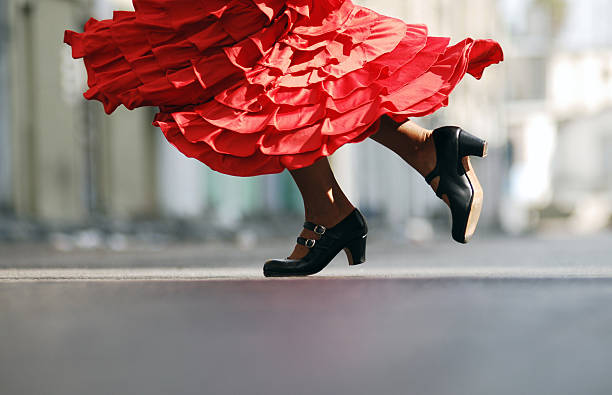 History
The origins of flamenco shoes can be traced back to the Andalusian region of Spain, where flamenco originated in the 18th century. At that time, flamenco dance shoes were simple and practical, made of rough, sturdy materials such as hemp or straw. 
As flamenco gained popularity and became more refined, so did the shoes, with the addition of embellishments such as lace, beads, and embroidery.

Flamenco shoes became more formal in the 19th and early 20th centuries, with higher heels and more ornate decorations.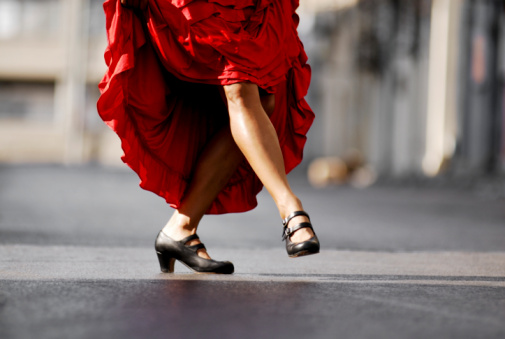 This shoe style is known as a "taco alto," or high heel, and is still worn today by flamenco dancers in formal performances.
 
However, the low-heel "tacon bajo," or low heel, has become more popular for daily wear and practice due to its comfort and versatility.

Flamenco dance shoes are not just for flamenco dancers, however. 
They have become a popular choice for women looking for stylish and comfortable shoes for everyday wear. 
The pointed toe and low heel make them a chic alternative to stilettos, and the flexible sole allows for easy movement.
In addition to the traditional leather flamenco dance shoes, variations are made of other materials, such as canvas or satin. These shoes are often adorned with colorful prints and patterns, making them a fun and vibrant option for casual wear.
Flamenco dance shoes are a key part of the flamenco experience for dancers and those who appreciate the art form. 

Whether you are a seasoned flamenco dancer or simply looking for a fashionable and comfortable shoe, flamenco dance shoes are a versatile and stylish choice. 
So, these shoes are used for dancing and fashion purposes.
Description
Flamenco shoes are typically leather and have a low heel, pointed toe, and flexible sole.

Flamenco dance shoes are special because they have a slightly higher heel than most other shoes. The higher heel is what makes these shoes so different from regular shoes, and it also makes them more comfortable to wear. The heel is usually about 2 inches (5 cm) high, and the toe is elongated and tapered to allow for precise footwork and movement. The sole is made of a soft, flexible material such as suede, allowing the dancer to pivot and stamp their foot easily.
 
Flamenco dancers often use these shoes to move around the stage and across the floor, and they are also very versatile for dancing in general. These shoes are often brightly colored, making them easy to see on the floor.
Features & Benifits
Flamenco shoes, also known as zapateado or ballerinas, are a type of footwear specifically designed for the art of flamenco dancing. These shoes are characterized by their pointed toes, low heels, and intricate embroidery or ornamentation. 
While flamenco dance shoes are primarily used for dancing, they have also gained popularity as a fashionable and comfortable choice for everyday wear.

One of the key features of flamenco dance shoes is their pointed toes. This elongated toe shape allows for greater agility and precision in the footwork of flamenco dance, as it allows the dancer to execute quick, sharp movements and make precise foot patterns on the floor. 
The low heel of a flamenco dance shoe also helps with stability and balance during the dance, as it allows the dancer to easily shift their weight and maintain control over their movements.
In addition to their practical benefits for dance, flamenco dance shoes have several aesthetic features that make them unique and eye-catching. Many flamenco dance shoes are adorned with intricate embroidery or beading, adding a touch of glamour and elegance to the overall look. 
Some flamenco dance shoes also feature a fringed detail known as a "Raspa," which adds a playful and flirtatious element to the design.
Another benefit of flamenco dance shoes is their versatility. While they are primarily used for flamenco dancing, they can also be worn as a stylish and comfortable alternative to traditional pumps or heels. 
The pointed toe and low heel make them a comfortable choice for all-day wear, and the ornate embroidery or beading adds a touch of personality and flair to any outfit. Flamenco dance shoes can be dressed up or down, making them a versatile addition to any wardrobe.
Regarding construction, flamenco shoes are typically made with high-quality materials such as leather or suede. These ensure they are durable and long-lasting, able to withstand the rigors of dance rehearsals and performances. 
The soles of flamenco dance shoes are also specially designed to provide the necessary grip and traction for the fast footwork and sharp movements of flamenco dance.
Flamenco dance shoes offer a combination of functionality, style, and comfort, making them an appealing choice for dancers and non-dancers. 
Whether you're looking for a shoe that will help you execute sharp footwork on the dance floor or want a comfortable and stylish alternative to traditional pumps or heels, flamenco dance shoes are a great option.
Celebrities Reviews
Flamenco dance shoes, also known as flamenco heels or Zapatos de flamenco, are traditionally worn by flamenco dancers in Spain. These shoes are characterized by their thick, sturdy heels and pointed toes, designed to help the dancer maintain balance and stability while performing the intricate footwork of flamenco dance.

Over the years, flamenco dance shoes have gained popularity among celebrities and fashion enthusiasts, with many famous faces sporting stylish footwear on red carpets and at events worldwide. 
Here are some reviews from a few well-known figures about their experience with flamenco dance shoes: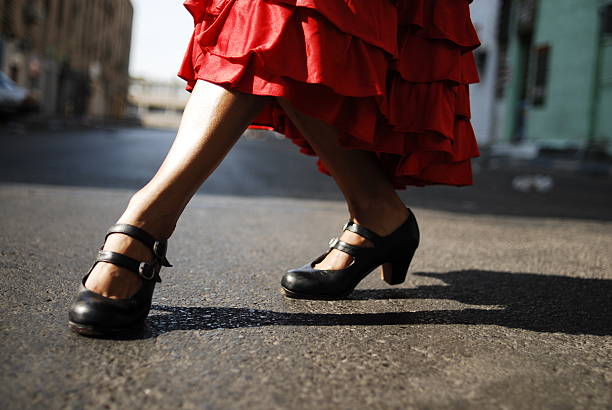 "I love my flamenco shoes! The heel is the perfect height for dancing, and the pointed toe gives me a sleek, elegant look. Plus, the leather is so soft and comfortable that I can wear them all night without any issues. I highly recommend them to anyone looking for a stylish and practical shoe for dancing or special occasions." – Jennifer Lawrence.

"I first discovered flamenco shoes while filming a movie in Spain, and I was immediately hooked. The craftsmanship is incredible – the attention to detail and the quality of the materials used are truly impressive. Plus, they're so much fun to wear! I love how they make me feel confident and feminine, and they're always a hit at parties and events." – Penelope Cruz.

"As a professional dancer, I need shoes that can withstand the rigors of rehearsals and performances, and flamenco dance shoes deliver. They're strong and durable, with a sturdy heel and plenty of support for my feet. Plus, they're just so darned cute! I love how they look with a frilly dress or a pair of jeans, and I get compliments every time I wear them." – Julianne Hough.

"Flamenco dance shoes are a must-have in my wardrobe. Not only are they stylish and eye-catching, but they're also super comfortable and easy to walk in. The heel is just the right height for me, and the pointed toe gives me a long, lean silhouette. I love wearing them with a casual pair of jeans or dressing them up with a fancy gown – they're so versatile!" – Gigi Hadid

"I've always been a fan of flamenco dance and the traditional clothing and footwear that goes along with it. When I had the chance to try on a pair of flamenco dance shoes, I was blown away by how comfortable and supportive they were. The heel was just high enough to give me extra height but not so high that I couldn't walk in them. 
And the pointed toe was so sleek and stylish – I just had to have them! I wear them all the time now, both for dancing and everyday wear." – Madonna.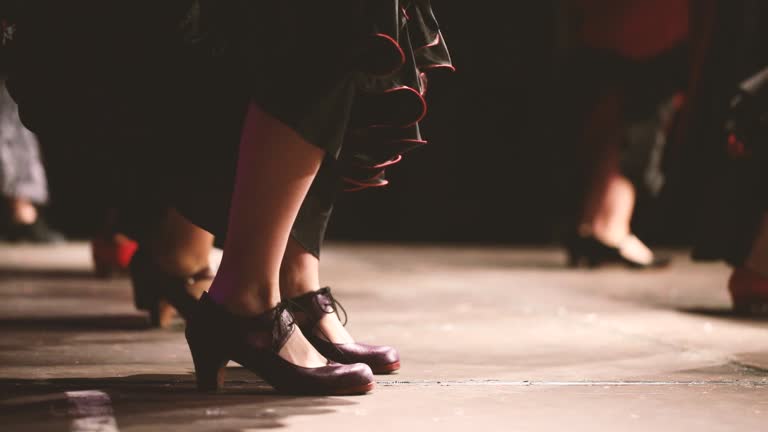 Celebrities are fans of flamenco dance shoes, praising their comfort, style, and durability. 
Whether you're a professional dancer or just looking for a fun and fashionable shoe to add to your collection, flamenco dance shoes are worth considering.
Conclusion
Flamenco shoes are a must-have for any stylish individual. Their unique design and colors make them stand out and can easily be mixed and matched with other clothing items. As with all styles of shoes, take time to find the right pair that will complement your style. If you're looking for a new addition to your wardrobe, consider picking up a pair of Flamenco dance shoes!
You May Also Like