A Shoe Guide is necessary for every dancer… dance shoes are a crucial piece of equipment for any dancer, whether you're a beginner or a seasoned pro. Not only do they provide the necessary support and stability for your feet and ankles, but they also help you to perform your best and look your best on the dance floor. 
In this guide, we'll go over the different types of dance shoes available, the features to look for when shopping for dance shoes, and how to care for your dance shoes to ensure they last as long as possible.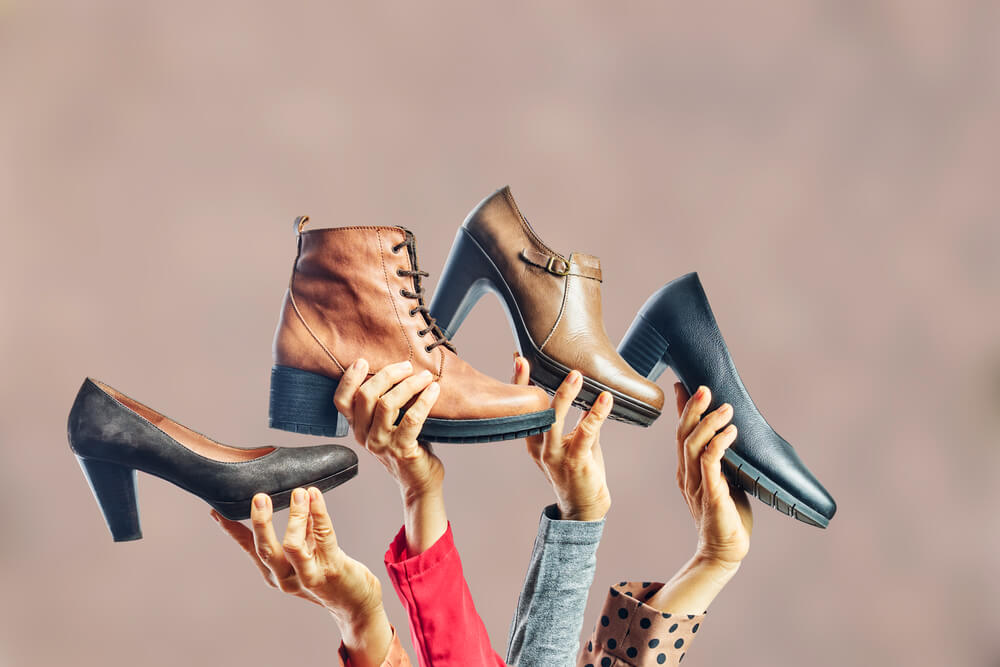 Different Styles in the Shoe Guide
Several types of dance shoes are designed for a specific dance style. We will discuss some in this shoe guide some styles in detail. For example, ballet shoes are soft and flexible with a canvas or leather upper and a split sole to allow maximum movement and pointe work. On the other hand, ballroom dance shoes have a thicker and sturdier heels to provide support and stability for quick turns and intricate footwork. Meanwhile, jazz shoes have a leather or canvas upper, a split sole for flexibility, and a low heel for added stability.

Other types of dance shoes include tap shoes, which have a hard leather or synthetic upper and metal plates on the soles to create sound as the dancer moves, and Irish dance shoes, which have a hard leather upper and a flat and flexible sole for quick footwork and high jumps. There are also specialized shoes for salsa, Tango, and other Latin dances, which often have a suede or leather sole to allow for smooth movement across the floor.
Why it's Necessary?
A shoe guide is necessary. When shopping for dance shoes, there are several features to consider. 
First, consider the type of dance you'll be doing and choose a shoe designed for that style. You'll also want to consider the shoe's fit – it should be snug but not too tight, and you should have enough room to wiggle your toes. 
The heel height is also important – a higher heel can be more elegant and graceful but may also be less stable. 
Consider your skill level and comfort when choosing a heel height.
In addition to the fit and style of the shoe, you'll also want to consider the materials it is made from. 
Leather and canvas are both popular choices for dance shoes, as they are breathable and flexible. 
Synthetic materials, such as microfiber, can also be a good option, especially for those allergic to leather. Whichever material you choose, try on the shoes and walk around before buying them to ensure they are comfortable and fit well.
When caring for your dance shoes, remember a few key things. 
First, invest in a quality pair of shoes built to last. Avoid cheaper, lower-quality shoes that may break down more quickly. 
To extend the life of your dance shoes, be sure to clean and condition them regularly. 
These will help to keep them looking and feeling their best. You should also rotate your shoes and use a new pair each time you dance to give each pair time to rest and recover.

Overall the shoe guide helps fully store your dance shoes properly when you need to use them. Avoid leaving them in direct sunlight or humid areas, as this can cause the materials to break down more quickly. Instead, store them in a cool, dry place and stuff them with newspaper or tissue paper to help them maintain their shape.
Guide To Buying Dance Shoes
Do I Want Dance Shoes?
In a word – yes. Although amateurs can get by for their initial only a few classes wearing calfskin soled shoes, dance shoes are fundamental for a dance without a hitch, easily and accurately. 

Formal dance shoes have a calfskin sole that makes it simple to move, turn, and feel the floor. You are more averse to harming your accomplice while wearing appropriate dance shoes.
Every shoe brand has its shoe guide, some given below.
Every shoe guide is about shoes' material, color, size, cost, and importance.

Traditional dance shoes are a venture without a doubt; however, they can last 5 to even 10 years, and they will be just gear expected to partake in this pleasant leisure activity. While golf players need pricy clubs, trucks, and club enrollments, artists need shoes and a dance floor.
What, In all actuality, do Move Shoes Cost?
You can pay around $90 for a decent-quality novice dance shoe. For those needing to save on these most memorable sets of dance shoes, you can find many styles online for around $30. Costs are higher for professional quality, adorned plans, and high-design matches. Recollect; you need 1 set, and they will keep going for a long time. You might get them resoled, assuming you want.
Revolution Ballroom
Focusing On Your Dance Shoes
Wearing your dance shoes beyond the assembly hall will harm the softened cowhide sole; wear your road shoes to class and bring your dance shoes to change in the studio. Most artists utilize a shoe sack; these are frequently included with your shoe buy.

Which Sort Of Shoe Would it be advisable for me to Purchase?
Most understudies start with an essential, universally handy social dance shoe. These could be solid agreeable practice shoes or strappy high-obeyed Latin shoes. 

It's an issue of inclination. High heels are optional, and numerous low or level heel choices exist. 
To have legitimate shoes for each dance style, yet initially, any softened cowhide soled shoe that you like will function admirably. Here are the fundamental kinds of shoes.

Shoes For Lady
            Smooth Shoes: These shoes are utilized to move Three step dance, Tango, Foxtrot, and Viennese Three step dance. Smooth shoes are tissue-conditioned, shut-toe shoes with a 2, 2.5, or 3-inch heel. (2.5 inches is the standard heel level).
            Latin Shoes: These shoes are utilized to move Rumba, Cha, East Coast Swing, and Salsa, and that's only the tip of the iceberg. Latin heels are strappy, tissue-conditioned, open-toe shoes with a 2, 2.5, or 3-inch heel. (2.5 inches is the standard heel level).
            Practice Shoes are casual shoes for working on, instructing, or for individuals inclined toward a steadier shoe. These shoes are, in many cases, dark trim-up plans. Most practice shoes are level; however, you might buy a couple with a low (2-inch) heel on the off chance you wish.
             Dance Tennis shoe: This is a more simple, padded, and strong form of a training shoe. Dance tennis shoes are convenient when you'll rehearse for a long time, and solace is vital. Be cautious while choosing a dance shoe as they frequently have elastic soles, which could be better for couples dancing. Pick a dance tennis shoe with a softened cowhide bottom.
            Argentine Tango-It gets fun, women. Tango is About the heels, and the higher, the better. In Tango, the standard heel level is 3 inches and up (lower heels are accessible too). Argentine Tango shoes are vivid, frequently garish, and numerous ladies own different matches. Tango shoes might have either calfskin soles or cowhide soles.
Shoes For Men
            Smooth Shoes: These shoes are utilized to move Three step dance, Tango, Foxtrot, and Viennese Three step dance. Men's smooth shoes are patent cowhide trim-up oxford.
            Latin Shoes – Rumba, Cha, East Coast Swing, Salsa, and others. Men's Latin shoes are a dark calfskin ribbon-up oxford. Men's Latin shoes highlight a low (1.5-inch heel).
            Practice Shoes: Men's training shoes are dark, frequently punctured cowhide (for ventilation during extended periods of wear).
            Dance Tennis shoe: This is a more easygoing, padded, and steady rendition of a training shoe. Dance tennis shoes are convenient when you'll rehearse for a long time, and solace is critical. Be cautious while choosing a dance shoe as they frequently have elastic soles, which could be better for couples dancing. Pick a dance shoe with a softened cowhide sole.
            Argentine Tango: Men's Argentine Tango shoes might be calfskin or cowhide soled, and like ladies', Men's Tango shoes are frequently brilliant and flashy. The good style is a highly contrasting patent cowhide.
A Note On Measuring
The important thing in a shoe guide is size. Many dance shoes are fabricated abroad (frequently in Britain and Italy). Along these lines, if it's easy enough, guarantee you convert your American size if necessary. As far as suited, your dance shoes fit perfectly. Your dance shoes shouldn't squeeze or feel tight; however, you don't maintain that additional space for the foot should move around. Your cowhide dance shoes will extend and become somewhat looser as you wear them.

Kickoff Dance Shoes
Kickoff Dance Shoes is situated in Atlanta, Georgia, and is the biggest distributor of dance shoes in the US. Their client care staff is entirely educated and can suggest a great shoe for your requirements. They have a huge assortment of shoes in stock and can request different widths, tones, and sizes while they may need to be in stock. Delivering is fast; most shoes show up in Beaufort, SC, in 2 days or less.
Dance Customer
Dance Customer offers a broad scope of items for the understudy or expert artist. First, you read the shoe guide and then easily track down the best brands at the best costs!
Favored Nearby Merchants

For artists in the Lowcountry, we suggest visiting Missy's Portable Dance Wear in Charleston, South Carolina. Their pleasant, educated staff can assist you with choosing the ideal shoe for you. 
Our understudies go wild about there to find polished answers for an assortment of foot issues: plantar fasciitis, bunions, and wide feet. 

So many of our artists figured they would never find dance shoes that worked, and they left Missy's with a couple they cherished!
Missy's Versatile Dance Wear
Argentine Tango Shoes
Lisadore
This shop offers a huge choice of Comme Il Faut and an Italian line called Paso de Fuego. Their help segments have an exceptionally supportive segment on changing over your American shoe size to European and which models of shoes turn out best for foot concerns like wide feet.
Felina Shoes
This shop is controlled by the spouse of Jorge Torres of the "Always Tango" distinction. She offers an enormous choice of Comme Il Faut and NeoTango.
Conclusion
We hope this shoe guide has helped you find the perfect dance shoe for your unique foot shape. We've got you covered if you're looking for the best pair of shoes to take your dancing to the next level or want to update your current set.
 Read our FAQ section if you have questions about finding the right dance shoes. 
Finally, please register for our online dance shoe fitting service to get an even better fit!
You May Also Like
Best Dance Shoes for Kids in 2023