Ballet flats are the perfect place to show off your dancing skills. With straps, you can keep them on securely so you can practice your pirouettes and spins without worrying about them coming off.
Straps provide a versatile way to hold them, making them easier to move around and giving you a more stable platform when dancing. Straps can also be used as support while dancers step on them, creating a stronger connection between the dancer's foot and the floor.
What Are Ballets?
Ballet flats are inspired by ballerinas' slippers and were popularized by Audrey Hepburn and Marylin Monroe in the 1950s.Since then, these have been rolled out on the runway and in high-street stores and are now considered a classic fashion essential.
Typically, these are both lightweight and extremely flexible, allowing you to feel free as you walk; they are rounded at the toe and have thin soles with low sides.
As they've grown in popularity today, these are available in a wide range of designs, with features like ankle straps, laces, and slingback styles, giving you more options for finding the right outfit.
 A Complete Style Guide
How to Style Ballet with Straps
Many people all over the world love a good pair of them.
For a good reason, too, as they're comfortable, versatile, and stylish!
A nice pair of them are a must-have for every woman's wardrobe, and depending on what you want to wear them for, they can be dressed up or down. Their design and the possibilities are endless, so whether you're looking to make a statement or want to keep things simple, both work with them.
Styling with Straps
These straps are familiar, but many women need clarification on how to style them.
The main reason is ankle straps can cut off your leg line, but style them correctly, and they can look flattering on anyone.
Here are a few simple ideas for wearing these shoes easily daily.
Casually
When it comes to your casual weekend wardrobe -These flats are essential.
In our opinion, you can't go wrong wearing these shoes with a pair of jeans, but remember to cuff your jeans so you can show your flats off!
Flats with straps work well with leggings and oversized knitted jumpers in colder seasons, but again, crop these to reveal your ankle to show the full length of your leg and appear taller and more elegant.
Formally
These look incredibly stylish for work or more formal occasions too.
They're more comfortable than heels to ensure you last full days without tired, achy feet.
In terms of color, opt for neutral shades like black or nude, which creates a serious yet professional appearance.
At the same time, stick to plainer designs with minimal embellishments and pair them with a smart workwear dress or above-the-knee skirt.
Summer Time
These look great with bare legs (never wear them with tights!), and there's nothing cuter than a summer dress with flat shoes. The general rule is to keep your dress above the knee or wear miniskirts and shorts to make a summer statement. Wearing them with thin straps, without tights, will make your legs appear longer without cutting off your ankles.
Winter Time
Yes, it's very tempting to wear tights with these flats in the winter but don't do it!
Why?
Short answer: ankle pleats.
The opposite of stylish!
Therefore, if you still want to wear your flats in the winter, invest in a sheer pair of socks that allow you to carry on wearing these shoes with jeans or leggings.
However, you should still reveal your ankle if it's not too cold, but if it's freezing, it may be better to wear a different style.
Some Details of Valuable types 
Calvin Klein Women's Odile
Product Details
Care Instructions Machine Wash
Sole Material Synthetic Rubber
Closure Type Buckle
Water Resistance Level Not Water Resistant
About this Item
Sleek and stylish, the Calvin Klein Odile is a perfect addition to your wardrobe. Featuring a pointy toe and ankle strap. Founded in New York in 1968, the brand elevates everyday essentials to globally iconic status
Pointed Toe
Buckle Closure
imported
Product Description
Sleek and stylish, the Calvin Klein Odile is a perfect addition to your wardrobe. Featuring a pointy toe and ankle strap. The brand was founded in New York in 1968 and elevated everyday essentials to globally iconic status.
FLY London Women's Ankle Strap 
Product Details
Fabric Type100% Leather
Sole Material Rubber
Outer Material Other Leather
Inner Material Leather

About this Item
Fly London Jest
Smooth Leather Upper
Soft Textile Lining
Durable Rubber Outsole
Fly London Fly Logo
Product Description
In the global fashion market, Fly London footwear is uncompromising in its styling and design. Ever changing, ever developing.
Lucky Brand Women's Atlyi 

Product Details
Fabric Type100% Suede
Care Instructions Machine Wash
Origin Made in the USA or Imported
Sole Material Synthetic
About this Item
Two Piece Flat
Cross Band Elastic
Pull-on
comfort
From the Manufacturer
Born in the heart of Downtown Los Angeles in 1990, Lucky Brand draws its inspiration from the effortless cool that the city is known for. We design our apparel, accessories, and shoes like we do our denim—producing the best quality at the best value without sacrificing the style and details that set them apart. 
Our footwear and lifestyle accessories complement the outfitting centered around our jeans for comfortable, easy styling you'll want to wear for any occasion.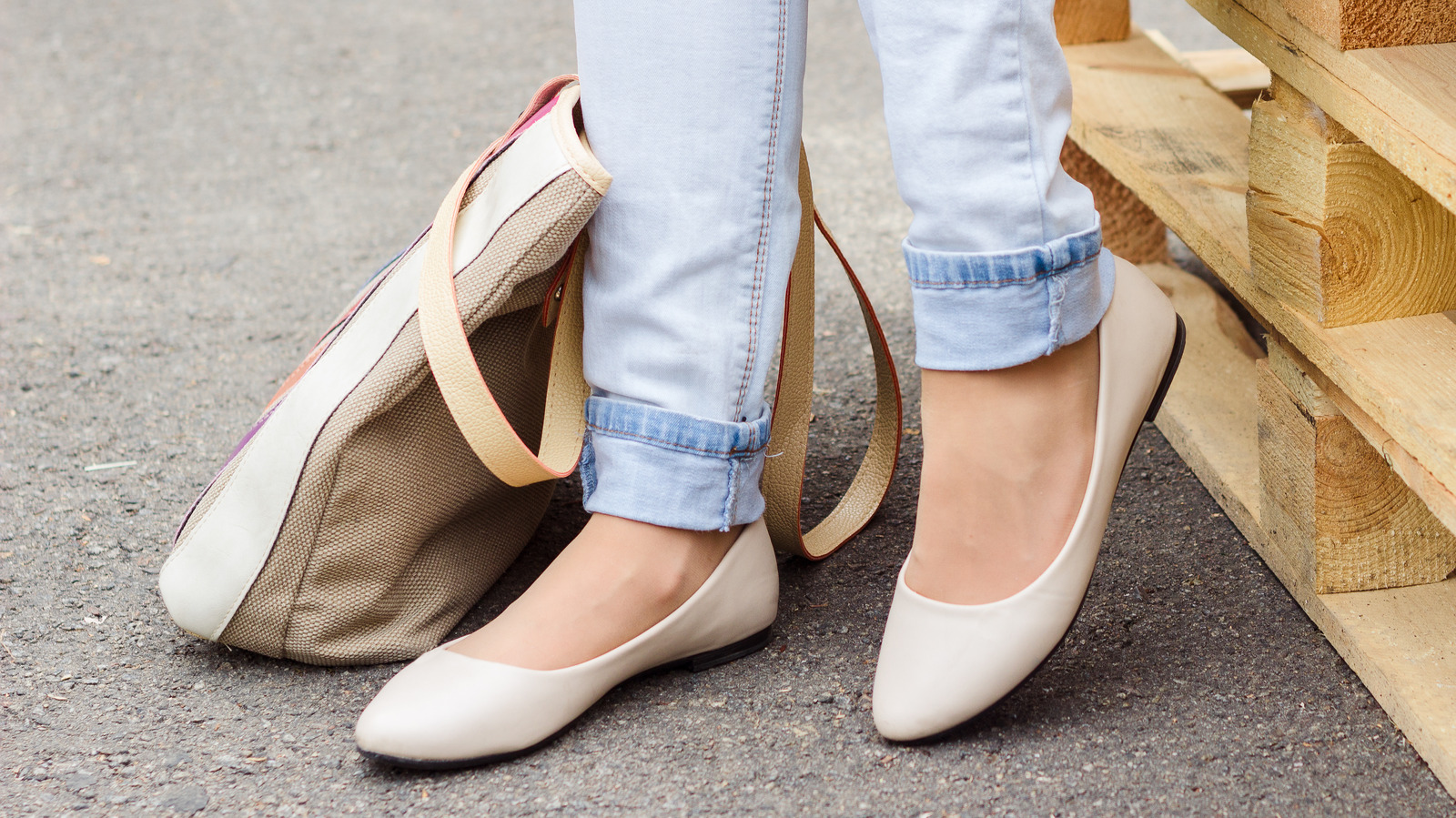 Conclusion
Ballet flats are an essential staple for every woman's wardrobe, and their popularity is unlikely to decrease.
Hopefully, this guide has given you a better understanding of how to style them so you can always ensure you're putting your best foot forward!

You May Also Like
Amazing Supadance Shoes in 2023