The Adidas Yeezy Foam Runner is a high-quality sneaker perfect for those looking for an excellent product. This sneaker is made of durable and stiff foam, and it provides an excellent level of comfort. The Adidas Yeezy Foam Runner offers a stylish and unique look with different sizes for every age. Choose your Perfect size from Adidas Yeezy Foam Runner Size Chart.
Adidas Yeezy Foam Runner Size Conversion Chart for Unisex Styles
Adidas Yeezy Foam Runner is one of the most sought-after shoes recently. These shoes' unique design and comfort have made them popular among sneaker enthusiasts. With the release of unisex styles, finding the perfect size for both men and women has become challenging. It is where Adidas Yeezy Foam Runner Size Conversion Chart comes in handy.
The size conversion chart provides an easy-to-use guide for those who want to purchase unisex Adidas Yeezy Foam Runners styles. It helps customers determine their size based on foot length and width measurements. 
With this chart, you no longer have to worry about ordering the wrong size or returning your order due to sizing issues. It's essential to note that Adidas Yeezy Foam Runners are designed differently from other types of shoes. The size chart is given below.
| | | | | | |
| --- | --- | --- | --- | --- | --- |
| US | UK | EU | Japan | Brazil | Korea |
| 4 | 3 | 37 | 22 | 35 | 220 |
| 5 | 4 | 38 | 23 | 36 | 230 |
| 6 | 5 | 39 | 24 | 37 | 240 |
| 7 | 6 | 40 | 25 | 38 | 250 |
| 8 | 7 | 41 | 26 | 39 | 260 |
| 9 | 8 | 42 | 27 | 40 | 270 |
| 10 | 9 | 43 | 28 | 41 | 280 |
| 11 | 10 | 44 | 29 | 42 | 290 |
| 12 | 11 | 45 | 30 | 43 | 300 |
| 13 | 12 | 46 | 31 | 44 | 310 |
| 14 | 13 | 47 | 32 | 45 | 320 |
| 15 | 14 | 48 | 33 | 46 | 330 |
Adidas Yeezy Foam Runner size chart
Adidas Yeezy 700 V3 Alvah
The evolutionary Yeezy 700 V3 is part of Kanye West's shoe line with adidas.
It's the third Yeezy 700, and the first model to remove Adidas' Boost cushioning from its design.
A black neoprene tongue and collar are arranged in a bootie-like construction for additional support.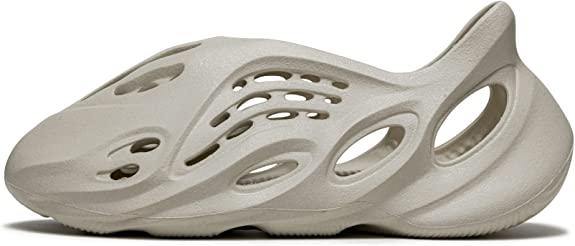 Adidas Men's Yeezy Foam Runner GW3354
The shoe's lightweight EVA foam.
Harvested algae body is designed in a wearable "Mist" hue that can be worn with virtually anything.
The "Mist" also features a monochromatic brown appearance.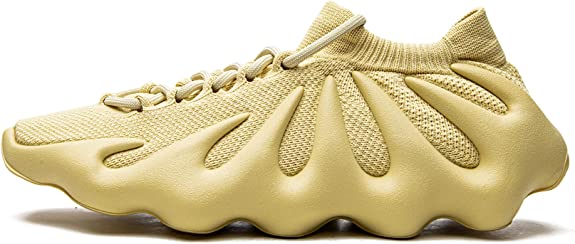 Adidas Yeezy 450 Men's Sulfur HP5426 Size 12 (Sulfur, 12)
rubber sole
The "Sulfur" colorway has appeared on several adidas Yeezy releases over the years
A beige sock-like knit upper is paired with a one-piece beige EVA foam sole that extends in "toes" to the collar, giving the shoe a unique look.
Adidas Yeezy Foam Runner Detailed Review
Adidas has always been a well-known brand in the sneaker industry, with its innovative designs and comfortable fit. This Runner is a unique addition to their line-up of sneakers that stands out for its unconventional look and eco-friendly materials. 
This futuristic sneaker has garnered much attention from enthusiasts looking for something different.
The Adidas Yeezy Foam Runner features a one-piece molded foam construction that provides ultimate comfort and support to your feet. The foam material is made up of algae biomass sourced from freshwater lakes, making it an eco-friendly choice. 
The design draws inspiration from 90's style shoes, making it perfect for those who love retro aesthetics. Despite being made entirely of foam, this shoe can withstand wear and tear while providing excellent traction on different surfaces.
Resale and Retail
Foam Runner is the latest addition to Kanye West's highly coveted collection of sneakers. This new release has caused quite a stir in the sneaker world, with retailers and resellers eagerly stocking up on pairs to meet the demand. The Foam Runner's unique design sets it apart from other Adidas or Yeezy releases.
Retailers are excited about this release because they know it will sell out quickly. The limited edition nature of the Foam Runner means that it will be highly sought after by sneaker enthusiasts and fashionistas alike. Adidas has also been promoting this shoe heavily on social media, which has helped to generate even more buzz around its release.
Resellers are equally excited about the Adidas Yeezy Foam Runner because they know how much profit potential there is in selling these shoes at a higher price than retail.
Sizing
It's important to note that the Adidas Yeezy Foam Runner runs slightly small. If you're between sizes or have wider feet, you should consider going up one size for the best fit. It's also worth noting that the foam material of this shoe will mold to your foot over time, making them feel tighter at first but ultimately more comfortable after a few wears.
Big Ankle Fit
The key feature of these sneakers is their big ankle fit, which provides unparalleled comfort and support for your feet. The Adidas Yeezy Foam Runner is made from a single piece of foam molded to provide maximum cushioning and support. The material used in this sneaker is lightweight and breathable, making it perfect for long walks or runs. 
The big ankle fit also ensures that your feet stay firmly inside the shoe, preventing slipping or discomfort.
The Level of Comfort
Since its release, the Adidas Yeezy Foam Runner has been making waves in the sneaker world. The biggest selling point is its comfort level. The Foam Runner is made entirely from a single piece of foam, making it incredibly lightweight and comfortable to wear.
This shoe also features a unique design that hugs your feet like a sock, providing excellent support and stability. The Adidas Yeezy Foam Runner has an OrthoLite insole that helps absorb shock and provides extra cushioning for your feet. Whether you're walking or running, this shoe will provide you with unparalleled comfort.
This Runner is one of the most comfortable shoes on the market today. Its innovative design and high-quality materials make it perfect for anyone looking for style and comfort in their footwear.
Using the Foam Runners
The well-known reality that shoe heels are squeezed up in this Adidas Yeezy sneaker was a remarkable factor that we thought we'd never appreciate or anticipate to be this way. That makes these Yeezy Foam Runner sneakers far better to ride in, and it is quite true. We know that dealing with heel brakes on shoes is quite simple, but we needed to think about how that would turn out. 
Despite knowing that it is quite a minor detail, it surprised us that the heel of the sneaker is so beneficial due to a simple brake pedal. With the Adidas Yeezy Sneakers, rolling your feet on the ground into the brake would yield much smoother acceleration and braking in your driving. 
It's a pity that these shoes feature this sweeping-up mechanism since it makes the driving experience far more comfortable than everyone would like.
Runner With Versus Without Socks
The runner is a unique pair of sneakers that has overtaken the fashion world. The shoe features a foam-like material that ensures maximum comfort and durability. One crucial question remains: Should you wear socks with these shoes? 
Wearing socks with Adidas Yeezy Foam Runners can be a personal preference. Some people prefer to have their feet covered when they wear sneakers, and others don't mind going sockless. Socks can help absorb sweat and keep your feet dry during extended periods of use, but they may also take away from the shoe's sleek design.
Many options are available for those who wear socks with their Foam Runners. You can opt for no-show socks or ankle socks that won't peek out and disrupt the stylish look of your shoes.
Is runner Sneakers Effective for Running?
To answer this question, we first need to take a closer look at the features of the Yeezy Foam Runners. Made from a single piece of foam, these runner shoes offer a lightweight, comfortable fit that is perfect for everyday wear. There are some concerns about their ability to provide adequate support and cushioning for high-impact activities like running.
While the Yeezy Foam Runners may not be designed specifically for running, they can still be effective if used correctly. These shoes are best suited for low-impact activities like walking or light jogging.
Outsole
Adidas has always been a top player in the sneaker industry, and their new release of Yeezy Foam Runners is no exception. These shoes are taking the market by storm with their innovative design and modern features. A key element that makes these shoes stand out is their unique outsole. The outsole of Yeezy Foam Runners is made from EVA foam, which provides excellent cushioning while maintaining durability. 
The foam also ensures lightweight construction, perfect for running or casual wear. This feature allows users to move freely without feeling weighed down by heavy shoes. Besides being lightweight, the outsole boasts a distinctive design with deep grooves that provide ample grip when walking or running on different terrains. 
The deep grooves ensure maximum traction during wet and slippery conditions, providing users with stability and comfort when performing rigorous activities like jogging or hiking.
Durability
Adidas has been ruling the fashion and sportswear industry for decades. Adidas always impresses its customers, from its iconic three stripes to innovative shoe designs. They have launched a new product called the Yeezy Foam Runners, which are making waves in the market due to their exceptional durability. Designed by Kanye West, these Foam Runners are made from a unique foam material that is lightweight and durable enough to withstand everyday wear and tear. 
The foam material used in these shoes is a blend of EVA and algae-based materials, making them environmentally friendly. This material is easy to clean and dries quickly, so you can easily remove any dirt or stains on your shoes without hassle.
Comparison between Adidas Yeezy 500 and 700 V3
The sneaker bucks the trend and adheres to subversive tropes. But we like it because it incorporates many design cues from other Yeezy shoes. Based on our perspective, the Yeezy Foam Runner would come true if you wrecked a Yeezy 500 sneaker and a Yeezy 700 V3 shoe and then foamed them. You have noticed the Adidas Yeezy Foam Runner sneaker appears to be almost off-white. 
What is most striking is that, when you photograph it, the ground appears light tan, but it can also be white in certain photographs. It is regarded as among the strangest Yeezy hues. It appears virtually non-existent in digital pictures but doesn't in genuine time. 
As opposed to the Inner Tank, this is especially perfect for us as how it appears changes based on the lighting.
Are yeezys good for basketball?
According to Youth Basketball coach Eric Pnagburn from Infohoops, Yeezys are not specifically designed for basketball shoes. While Yeezys may provide some level of comfort and support for casual basketball play, they are not optimized for the specific demands of the sport. They are not performance centric but they are fashion and lifestyle centric.
In Closing of Adidas Yeezy Foam Runner Size Chart
Size is a common issue for Adidas lovers early. For convenience, its customer company announced the Adidas Yeezy Foam Runner size chart, which includes both men and women. The sizes are based on foot width and height and range from small to large. The Adidas Yeezy Foam Runner is a must-have for all athletes, so knowing what size you should order is important.
FAQs
What is the fit of the Adidas Yeezy Foam Runner Sneakers?
The Adidas Yeezy Foam Runner Sneakers, are designed for a snug fit and are made of durable rubber. They are a great choice for those who want a comfortable and stylish sneakers.
Should you choose a size bigger or smaller in the Adidas Yeezy Foam Runner sneakers?
This question has no definitive answer as it depends on personal preference. Some people prefer a larger size, while others prefer a smaller one. The best decision for you will be based on your unique feet and preferences.
Is the Adidas Yeezy Foam Runner available in children's sizes?
The Adidas Yeezy Foam Runner is available in both children's and adult sizes