Women's Hiking Boots are trendier than ever, making it difficult to find trail shoes that are as functional as they are fashionable. We consulted seasoned outdoor experts to find the best women's boots and shoes for all terrain, from sleek sneakers to waterproof boots and everything in between. 

When picking out your pair, Pacific Crest Trail Association communications director Scott Wilkinson advises that "it's critical" to maintain circulation in your feet. "The best way to do that is to be sure you get footwear that's at least one size bigger than what you normally wear," he says. 

That advice is especially apt in winter, adds Melissa Goodwin, licensed outdoor guide and the founder of Girl Gotta Hike NYC: "You're going to want to have room for thicker socks — and as you're out on a hike all day long, your feet tend to swell, so you want to make sure your toes aren't rubbing against the shoe." 
Speaking of socks, it's a good idea to invest in blister-preventing and moisture-wicking wool pairs.
Tips & Types
Hiking boots are crucial equipment for any woman who loves to hike and explore the great outdoors. They provide the support and protection needed to navigate rough terrain while keeping your feet dry and comfortable. 

However, with so many different types and brands of hiking boots available, it can be challenging to know which ones to choose. In this article, we will provide some tips and reviews for the best hiking boots for women.
When shopping for women's hiking boots, the first thing to consider is the type of hiking you will do. A lighter and more flexible boot may be suitable if you primarily hike on well-maintained trails. 
So, a heavier and more supportive boot is necessary to tackle rugged terrain. Additionally, waterproof boots are a must if you are hiking in wet conditions.

An important factor to consider is the fit of the boot. Make sure to try on hiking boots with the socks you plan to wear while hiking and make sure there is enough room for your toes to move freely. 
Ensure the boot is snug around the heel and ankle to prevent blisters and keep your foot in place.
One popular brand of hiking boots for women is Salomon. Their X Ultra 3 GTX boot is a great option for rugged terrain and wet conditions, thanks to its waterproof Gore-Tex lining and durable Contragrip sole. The boot features a comfortable and snug fit, making it a great option for long hikes.

Another great option for women is the KEEN Targhee III Waterproof boot. This boot is perfect for wet and muddy conditions; it is waterproof and breathable, with a KEEN. The DRY Membrane blocks water from coming in but allows sweat to escape. The Targhee III also has great support and stability, with a non-marking outsole and a contoured heel lock.
The Merrell Moab 2 Waterproof boot is a great choice if you want a more lightweight option. It is a versatile boot suitable for day hikes, thanks to its durable leather, mesh upper, and waterproof Membrane. The boot also features a Vibram sole for traction and stability on various surfaces.
The Columbia Redmond Waterproof boot is a great option for a more feminine style. This boot is waterproof, breathable, and durable, combining suede, leather, and mesh upper. It also features a Techlite midsole for cushioning and high energy return, perfect for long hikes.

When shopping for hiking boots for women, it is important to consider the type of hiking you will be doing, the fit of the boot, and the most important features.
 
Whether you are looking for a boot to tackle rugged terrain or a more lightweight option for day hikes, there is a hiking boot for every woman. Some top brands and models include the Salomon X Ultra 3 GTX, KEEN Targhee III Waterproof, Merrell Moab 2 Waterproof, and Columbia Redmond Waterproof. 
Make sure to try on various boots to find the perfect fit and style for you. Remember, a good pair of hiking boots will keep your feet protected and comfortable, no matter where your adventures take you.
Danner Mountain Light Boot
"If you're looking for one best pair of women's hiking boots to rule them all, the vintage styling of the Danner Mountain Light is iconic, and the one-piece leather design makes for a sturdy boot that can handle anything," says Zina Bougri, an account manager at Backcountry.

 "They're the boots Reese Witherspoon is wearing in the movie Wild. Once these babies mould to your feet, if you're invested in the process, they should be comfortable within a month, if not just a few weeks.
"If you've seen Wild, though, you'll recall that Reese deals with a fair few blisters on her journey toward self-discovery — for that reason, we'd recommend (again) that you size up.
Some Important Key Points For Women's Boots 
Women's hiking boots are designed specifically for women's feet, with a slightly different shape and fit than men's boots.
They offer support and stability on uneven terrain, protecting the feet and ankles from injury.
They are made with durable materials, such as leather or synthetic materials, to withstand the wear and tear of hiking.

Many women's hiking boots have a waterproof or water-resistant membrane to keep feet dry in wet conditions.
They are often equipped with a sturdy soles with deep lugs for traction on slippery or loose surfaces.
They come in various styles, from low-cut to mid-cut and high-cut, to provide different levels of support and protection.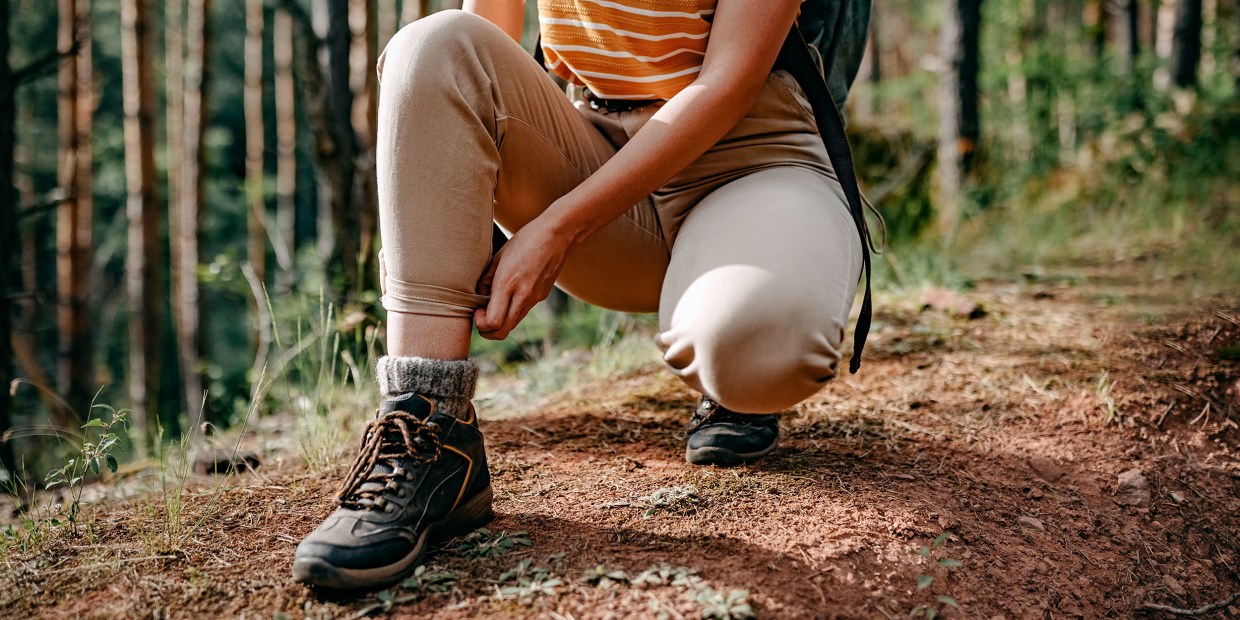 They typically have a more precise fit to cater to the variations of women's feet which are comparatively smaller than men's
Some women's hiking boots also feature a built-in shank for extra support or a cushioned footbed for added comfort.

They are suitable for many activities, such as day hiking, backpacking, and even light mountaineering.
Try on different styles and brands of women's hiking boots to find the perfect fit and level of support for your specific needs and preferences.
What We Like
Lightweight and elegant with a comfort-first fit.
Vibram Megagrip outsole provides reliable and consistent traction on various surfaces.
Better support and stability than expected for such a light and well-padded design.
Roomy toe box allows for natural foot swelling after long days on the trail.
Gaiter compatibility adds versatility for water crossings and sealing out debris.
What We Don't
My foot slid around in the boots on steep descents, causing my toes to smash against the stiff toe box (sizing up would have likely helped). 
The event membrane extends to just below the top two lacing eyelets, leaving the upper portion of the collar exposed to moisture during water crossings.
Thick padding around the ankle led to a pressure point on my first outing, but this went away after a short break-in period.
You can get better breathability with a more mesh-heavy, non-waterproof boot. 
Comparison Details among some types
There are too much types of women's hiking boots are available in market. But here we will compare some types and their benefits. Lightweight hiking boots are now a dime a dozen, but Topo Athletics' Trail venture 2 WP stands out for its effective combination of all-day comfort, support, and underfoot protection. Another popular trail runner-inspired design is Hoka's Anacapa Mid GTX, which uses the brand's signature springy midsole and rocketed shape that promotes a smooth stride. 

The Anacapa is a little heavier at 1 pound 12 ounces per pair. Still, the beefed-up leather build adds a nice boost in durability compared to the Topo's synthetic design. The Gore-Tex liner is a small upgrade in waterproofing and breathability. Our biggest gripe is traction: The Hoka's Vibram Mega grip outsole does well on hardpacked trails, but the large sections of blown rubber in the middle detract from the grip on uneven and rocky slopes. 
Both boots nicely balance agility and support. A final decision will come down to preferences on cushy comfort (the Hoka wins out) versus all-out grip (the Trailventure gets the edge). 
​​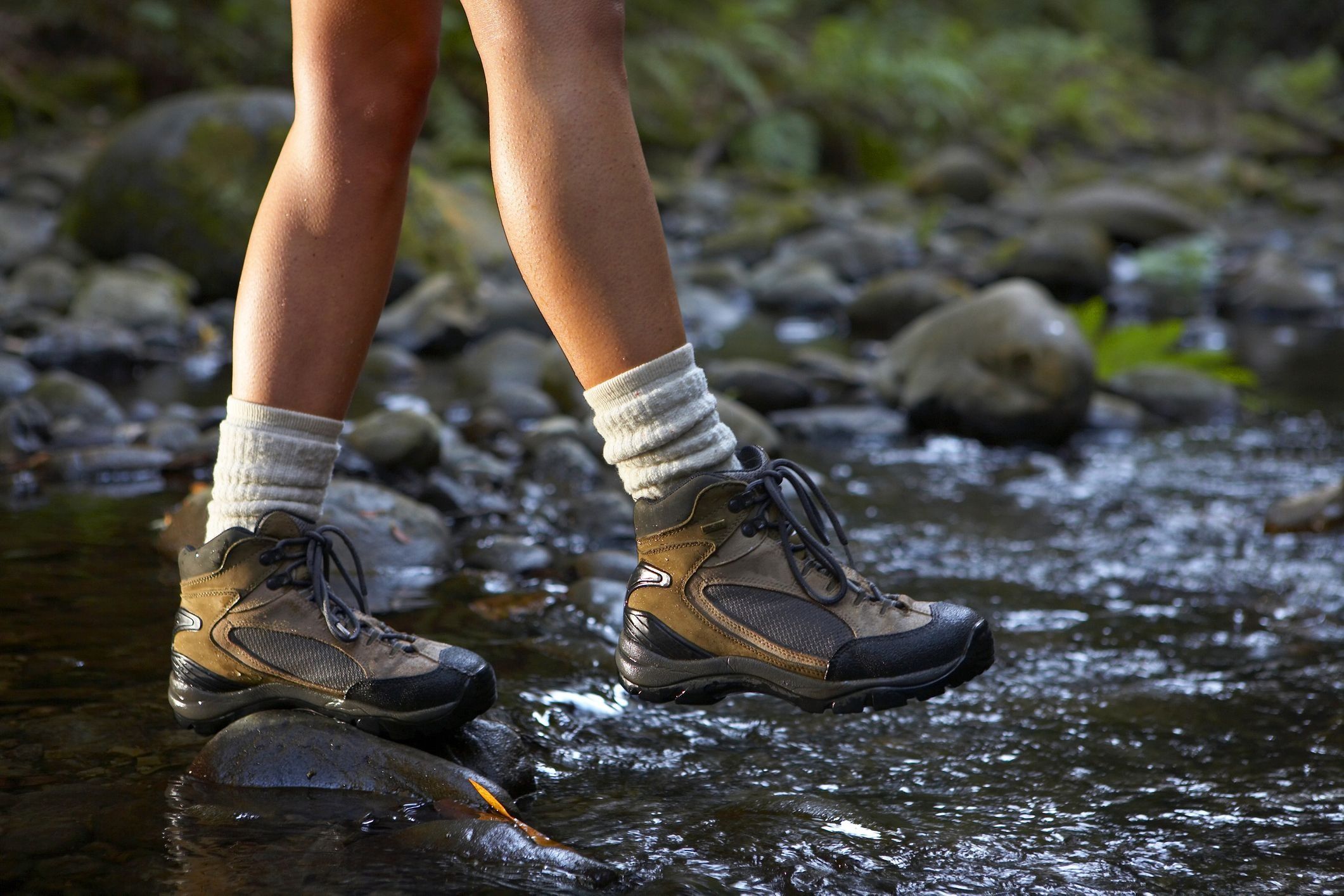 Like Topo Athletic and Hoka, Altra is another well-respected running brand, and their competitor to the Trail venture 2 is the Lone Peak ALL-WTHR Mid. In this case, Altra took their flagship Lone Peak trail runner and added ankle height while retaining the shoe's trademark wide toe box, generous cushioning, and zero-drop design. 
Like the Topo, the Altra is comfortable out of the box, includes an eVent waterproof membrane for sealing out moisture, and offers good support and stability with a TPU heel and padded but energetic midsole.
It's also lighter than the Trailventure by a couple of ounces, although the tradeoff is less protection and durability. Specifically, the Altra was sloppy and hard to trust on rocky terrain with a less capable outsole and minimal coverage at the front, and the thin and airy upper is more prone to tears and premature wear. 
The Lone Peak is a viable and capable alternative for those who stick to the trail, but the Trailventure 2 is the better match for more aggressive and varied terrain. 
​​
Another trail runner-inspired design we like this season is Salomon's new Outpulse Mid GTX, which is cheaper and lighter than the Trailventure 2 at $160 and 1 pound 7.1 ounces. While noticeably less padded than the Topo, the Salomon is similarly athletic and elegant while retaining surprisingly good stability with a firm TPU midfoot shank and reverse-camber shape that promotes a very natural stride. 

You also get Salomon's capable Contagrip outsole and an upgraded Gore-Tex waterproof membrane. However, support and durability fall a little short of the Trailventure: The Outpulse's single locking eyelet makes it hard to get a secure fit around the ankle, and the knit-like upper strikes us as more prone to tearing and snagging (although we haven't had any issues to date). 
Some will prefer the Outpulse's firmer build and lighter weight, but the Trailventure wins out in comfort, stability, and overall build quality.
Last but not least is a more mountain-ready alternative: La Sportiva's Ultra Raptor II Mid GTX. Like the Lone Peak above, this boot takes the brand's well-loved Ultra Raptor trail runner and adds a tall collar and waterproof Membrane for increased coverage and protection. 
For just $19 more than the Trailventure 2, the Ultra Raptor II is similarly light (1 lb. 11.8 oz.), uses a proven Gore-Tex liner, and offers great protection with a generous toe cap, TPU heel, and rigid shank for improved stability underfoot. 
We also like the Frixion XF 2.0 outsole, which is stiff and grips well on most surfaces. The Trailventure 2 offers a more cushioned and energetic feel on well-established trails. Still, the Ultra Raptor is similarly light and the better choice for fast-and-light mountain objectives that involve technical terrain.
Conclusion
Choosing the right women's hiking boots is important to ensure they have the perfect experience on their next hike. A variety of boots available on the market are perfect for different hiking needs and preferences. 
Hiking boots are a great investment and should be chosen carefully to ensure they provide the best performance and comfort for your feet.
You May Also Like
Best Men's Hiking Shoes in 2023