Tap Dance shoes are footwear that helps dancers move more easily and effectively. They support your feet and make it easier to stay on during dance performances. There are many different types of dance shoes, so it is important to find the right one. Many people think of tap dancing as a dance that is danced to pop songs. 
It is not the entire truth. Can also use tsp dancing for spiritual meaning and relaxation.
General info

Article with information about the tap shoe attributes beginning tap dancers should look for when purchasing their first pair of tap shoes.
Includes tap shoe makes, models, and styles sold under many different brand names, including Bloch, Capezio, Casimiro, Dance Class, 

Dance Now, Danshuz, DTTROL, Duran, Energetiks, Freed, Grishko, La Duca, JustTap, Leo, Magic Feet, Miller and Ben, Misti, Move, Ruben Sanchez, Sansha, So Danca Theatricals, and Zeller.
Many different styles of tap shoes are organized first by style and, within each style, by maker or brand. 
Styles include Boot, Character, Dual-Color, High Heel, Mary Jane, Oxford, Slip-On, Split-Sole, T-Strap, Tyette, and Velcro-Closure tap shoes.
Ap shoe makes and models are organized by price. 
Luxury, expensive, moderately priced, and budget-priced tap shoes.
A collection of tap shoes made for men, women, young girls and boys, and toddlers.
Also, include unisex tap shoes for both adults and children.
Best Tap Shoes for Beginners
The best tap shoe for beginners is an oxford-style shoe with a lace-up closure, low heels, a firm, solid sole, and taps attached with three screws. If you can afford them, buy leather shoes rather than synthetic ones. 
It is the best tap shoe style for any level of tap dancer who does not need or has a strong desire for a different shoe style.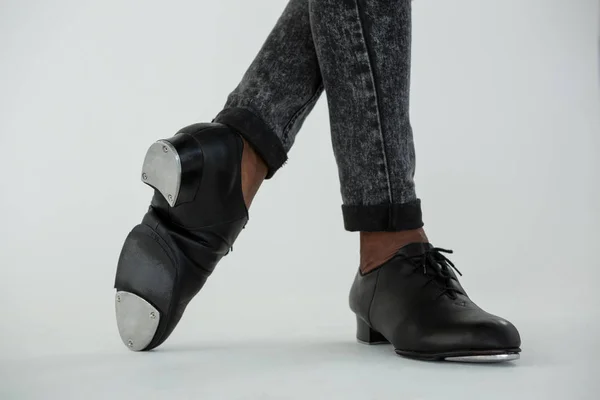 An Oxford Style Shoe: Oxford-style shoes are recommended for beginners because they have a lace-up closure. Shoes with laces provide better lateral foot support than tap shoe styles such as mary Jane and slip-on. Laces will also allow each dancer to get a perfect fit because the laces can be tightened or loosened to hug the foot perfectly.
Low Heels: Balancing as your weight shifts from side to side and front to back is one of the most important skills for a beginning tap dancer to master. A high heel will make balancing more difficult. Lower-heel tap shoes also produce a stronger, richer sound because high-heel shoes have small rear taps. High heel tap shoes are character shoes most suitable for experienced tap dancers performing Broadway-style tap on stage.
Solid Sole: Most tap shoes on the market have hard, solid soles, but a few models have what is known as a "split sole." The area between the two taps is made of flexible material in a split-sole tap shoe. Tap shoes with firm and solid soles are best for most tap dancers because they provide better sound and support. Split-sole tap shoes make it easy for tap dancers to point their toes like jazz dancers, but that ability is not needed for most tap dancing steps, combinations, and routines.
Three Screws Per Tap: The first pair of tap shoes I owned had taps that were each attached with only one screw. I quickly found out why three screws per tap are better. When a tap is attached at only one point, it can rotate around its screw or nail, causing it to loosen. 

I had to re-tighten my taps every two or three lessons to prevent them from falling off. Eventually, the rotation of my taps around their attachment point started stripping the screws. 
Taps cannot rotate around the screw or nail when attached at two or more points. The best tap shoes will usually have taps attached with three screws. Never should you ever buy tap shoes with taps that are glued on?
Why Leather: There are a few reasons why leather tap dance shoes are popular. 
The first reason is that they are very durable. They have a lot of tread on them, which means they can take a lot of wear and tear. They also come in many colors, so you can find the one that matches your outfit. 
The second reason is that they look cool. 
They are made from leather, so they stand out from the rest. And finally, they make great dancers.
There are too many types of Tap Dance shoes. Here we discuss some of these.
Some Best Types of Tap Dance Shoes
Capezio
COMPANY: Capezio
ESTABLISHED: 1887 (cobbler shop in NYC)
FOUNDER: Salvatore Capezio (1871–1940) Born in Italy
CORPORATE OFFICE: Totowa, New Jersey, United States
WEB SITE: Capezio.com
History of the Capezio Company: The Capezio tap company was founded in 1902 by Antonio Capezio, a business executive, and entrepreneur who had the idea to produce better-quality tap water than available from local water suppliers. 
The company began production of its customized taps in 1903 and soon became well-known for its high-quality product. 

In 1972, the Capeziotap Company merged with two local companies to form the current Soteriopharmaceuticals, Inc. business empire.
Styles of Capezio Tap Shoes
Character
Includes character, high heel, mary jane, oxford, slip-on, split sole, t-strap, tyette style, and tap boots made by Capezio.
Models of Capezio Tap Shoes
Includes Capezio tap shoe models by name, model ID (part number), customer type, and price range. 
Also includes information about professional-level Capezio tap shoes and customizable Capezio tap shoes.
Casimiro Handmade Dance Shoes
COMPANY NAME: Casimiro Handmade Dance Shoes
ESTABLISHED: 1915
FOUNDER: Casimiro Valldeperas Domenech
DIRECTOR: Cristina Valldeperas
ADDRESS: Calle Joaquin Costa Numero 57
NEIGHBORHOOD: El Raval Historic District
LOCATION: El Raval Neighborhood, Barcelona, Catalonia, Spain
EMAIL: info@casimirodanza.es
OFFICIAL WEB SITE: casimirodanza.es
Introduction to Casimiro
Casimiro Valldeperas is a handmade dance shoe manufacturing company that also offers accessories, clothing, and supplies for dancers and other entertainers. Casimiro makes many different types of dancing shoes, including tap, ballet, and shoes for jazz, contemporary, and musical theater dance. They also offer hairdressing and make-up services for performers.
History of the company: 
The history of Casimiro's handmade dance shoes can be traced back to the 1920s. The company was founded by José Casimiro, a Portuguese immigrant who left his native country to start a new life in the United States. 
Casimiro was inspired to create new and innovative designs after experiencing firsthand the beauty and culture of his homeland. 

He began designing shoes in 1928 and became known for his unique style. 
His shoes were often worn by dancers throughout the 1930s and 1940s, earning him respect from critics and consumers.

In the 1970s, Casimiro continued making high-quality shoes, but he passed away in 1978. 
Today, the company remains active and continues to produce unique and stylish dance shoes for men and women.
Name of Models
Styles of Casimiro Tap Shoes Include Casimiro's boot style, tyette style, Cuban heel, high heel, and oxford style tap shoes.
Models of Casimiro Tap Shoes
Information about each of the tap shoe models made by Casimiro. Includes their Roxy Boot, Charlie Boot, Lola, Tex Tap, Ginger, Ginger2Plus, Gin, 3D, 2125AN, 3125CB, CG55, Com12, Tap13, and U925 model tap shoes.
Energetiks Dance and Active Wear
COMPANY NAME: Energetiks Dance and Active Wear
ESTABLISHED: 1988
FOUNDERS: Karen Tsonidis, Lynda Chapman, and Gail Gardiner
HEADQUARTERS ADDRESS: 19 McGregors Drive
HEADQUARTERS LOCATION: Keilor Park, Victoria, Australia
EMAIL: customerservice@energetiks.com.au
History of the Energetiks Company: The history of the Energetiks Company goes back to 1927, when a group of businessmen formed a company to develop and produce electricity. 
The company has since become one of the leading electric supply companies in the world. Today, the Energetiks Company provides electricity to more than 180 million people worldwide.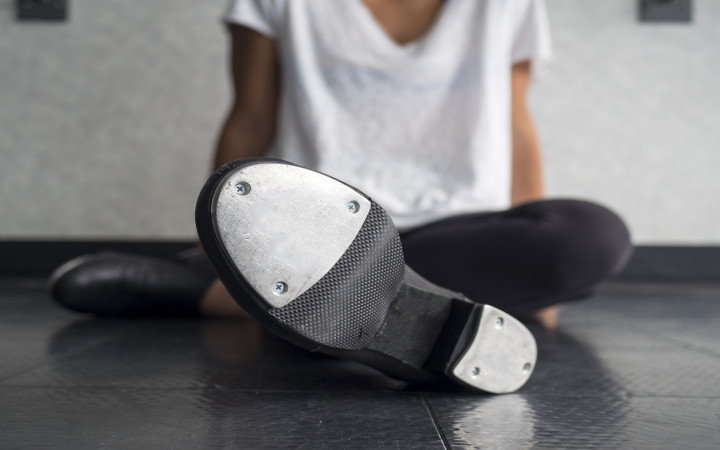 Models
Models of Energetiks Tap Shoes
Energetic offers nine tap shoe models suitable for men, women, boys, and girls.
Styles of Energetiks Tap Shoes
Includes lace-up oxford style, a slip-on style, strap and buckle Mary jane style, and Cuban heel style tap shoes.
Advantages 
There are many advantages to learning tap shoes. Here are a few: 
They make dancing more fun. When dancers learn to use tap shoes, they can be more creative and enjoy moving their feet around. It makes dancing more enjoyable for everyone involved, including the dancers and the audience.
They help improve foot coordination. Tap shoes help dancers better coordinate their movements and control their balance while learning to tap. This improved foot coordination can improve a dancer's technique and rhythm, leading to better performance on stage or in other situations where speed is important. 
They help develop foot strength. Tap shoes provide an excellent opportunity for dancers to work on their feet and strengthen them so they can stay healthy and perform at their best for longer periods.
Conclusion
Tap dance shoes are a great option for improving their dancing techniques. You can use your feet more effectively and develop better balance by wearing them. The shoes can help you to improve your timing and choreography.
You May Also Like
Choosing the Best Lindy Hop Shoes for Women